Transcript
Today I want to take a couple minutes and talk a little bit about How to Stay Focused, Achieve Your Goals, and Get the Most Out of Life.
If you're anything like me, and I'll bet you are, you have problems with procrastination. It's not really that I don't know what to do, it's not doing what I know. We are very rarely mystified about what we need to do, but we hesitate and perseverate and avoid doing what we know we should do. This has been true since ancient times — our human nature doesn't change — but what can we do to stop procrastinating and begin taking more action?
One person who was a great expert on success and taking action was Napoleon Hill. He is the famous author of Think and Grow Rich and Law of Success, and he's often cited as the grandfather of the self-help and personal success industry. From the early 1900s through the 1960s, he studied success, successful men and women, and refined his ideas, distilling success down into what eventually became 17 Principles of Success, from which, he believed, if you followed them faithfully, you were absolutely destined to become successful, because these are the traits that all successful people seem to exhibit. So, let's look and see how we can learn today from Napoleon Hill's ideas.
17 Principles of Success
Definiteness of Purpose
Mastermind Alliance
Applied Faith
Going the Extra Mile
Pleasing Personality
Personal Initiative
Positive Mental Attitude
Enthusiasm
Self-Discipline
Accurate Thinking
Controlled Attention
Teamwork
Learning from Adversity & Defeat
Creative Vision
Maintenance of Sound Health
Budgeting Time & Money
Cosmic Habitforce
With that said, here are the 17 Principles of Success. They apply to both personal and public life, and you'll see that they promote personal improvement as much — or more — than being a successful person in business or professional life in general.
Looking at the 17 Principles of Success, you see that the very first principle is Definiteness of Purpose. It is the starting point of all achievement. So, what does that mean? Well, it means you spend some time really thinking about what you want from life, your life as a whole, your entire focus from here to eternity. You want to determine the highest goals you'd like to achieve with the rest of your life's work.
If you're really stumped about creating a Definiteness of Purpose, you can ask yourself, "What do you plan to dedicate your life's work to?" or, even more simply, "What is the meaning of your life?" What do you choose to direct your energy into that will give you the most satisfaction, and deliver the deepest meaning? Whatever you choose, you can strive for — but you have to have a goal in mind before you even get started.
If you're saying, "Wow, Definiteness of Purpose really sounds difficult!" … well … it is. It's the most difficult step of all — but getting started usually is the most difficult step on a journey. The other 16 principles fortunately are much easier, and they all combine to work with one another. They support you on your journey on your path to success. They will help you stay motivated. They will help you improve your life and achieve the goals you set out to accomplish.
One of my favorite principles is Controlled Attention. Controlled Attention basically means to keep your mind on the things you want and off the things you don't. You want to remain positive. You want to think about the positives in life. You want to avoid thinking about the negatives. This is the message of The Secret, the Law of Attraction: "thoughts are things," so focus on positive thoughts. But, as you probably know, staying focused on the positive is easier said than done.
That's why I created the 17 Principles of Success Poster. It's a visual reminder to me to stay positive and focus on my goals.
With this poster on the wall, I have a quick reference for all 17 principles, as defined by Napoleon Hill and reframed or re-stated in simpler or more colloquial terms. It's really a great resource for me when I face challenges and indecision. It gives me something to focus on to shake off my negative thoughts and refocus on the things that I do want.
One of the nice features of the poster is it is printed double-sided. That means there are two display options: horizontal and vertical.
Due to popular demand, I created a small version, a Compact Edition, to suit a smaller space. The original is a 24- by 36-inch poster, and the Compact Edition is 11 by 17 inches. And of course, both are printed double-sided for the portrait and landscape layouts.
With these two sizes and two layouts to choose from, the 17 Principles Poster is perfect for offices, as well as dorm rooms and bedrooms; anywhere that you want to stay focused on success and inspire those around you.
When you focus on what matters most, and practice the principles of success, there's really no limit to the dreams you can achieve.
It's time to start getting the most out of life, using the 17 Principles of Success.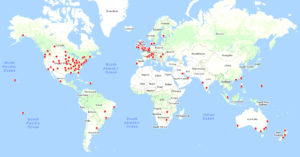 The 17 Principles of Success Poster is found in homes and businesses across the nation and in more than 30 countries around the globe.
And with a rock-solid satisfaction guarantee, you can buy with confidence you'll love your poster. Join the thousands of others who are using their posters, focusing on what matters most, and achieving their highest goals.
Visit my website today and get started with the principles of success. Come to 17PrinciplesPoster.com. And let me know how things go — I'd love to hear a great new success story.
What do you think? I'd love to hear your thoughts and comments below!